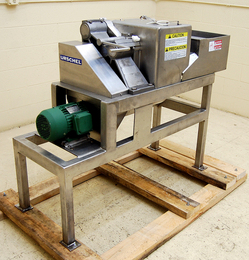 RECONDITIONED URSCHEL Model G-K DICER, with stainless steel slice shell and impeller.
Capable of all the same flat dice and flat strip cuts as the Urschel model G-A, but also capable of crinkle dices and crinkle strip cuts e.g. for krinkle cut french fries. Manufacturer rated for infeed product up to 5.5 inches in any dimension, slice thickness of 1/8 inch (3.2mm) to 3/4 inch 19.1mm, crosscuts from 9/32 inch (7.1mm) to 7/8 inch (22.2mm), and circular knife cuts from 3/32 inch (2.4mm) to 3 inches (76.2mm). Please tell your Alard Sales Representative your cutting specification(s).
All food grade sanitary stainless steel product contacts, with plated spindle arms, stainless steel shrouding, frame, knives and cutting spindles. Metallic painted main casting. 7" slice shell opening.
2HP 208/230/460 volt 3 phase drive.
As of this writing, this refurbished Urschel cutter / dicing machine is in stock at Alard, in EXCELLENT operational, mechanical, and cosmetic condition, available for immediate shipment.
Alard item reference #:Y2111