RECONDITIONED URSCHEL OV SLICER / PICKLE CUTTER...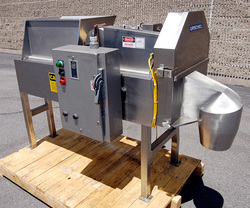 (Also see video, below)

Manufacturer rated for producing flat or crinkle cut crosscut slices, aka "coin cuts", from elongated food products such as carrots, celery, cucumbers (pickles), peppers, squash,bananas, pepperoni, leeks, etc. With proper cutting parts, slices from 1/16" to1 3/4" can be produced in high volume.
Currently set up with a 16 blade cutting head for 1/4 inch slices, other cutting configurations availble: Call 315-589-4511 and tell us your cutting specification!


V-trough belt aligns and centers products for uniform cross cut slicing.


Standard "floppy belt" product hold down mechanism.


Food grade stainless steel construction including frame.


Factory control panel with safety interlock system.



2 HP 208/230/460 volt 3 phase drive motor.
As of this writing, this Urschel model OV slicing machine is in stock at Alard, refurbished to EXCELLENT operational, mechanical, electrical, and cosmetic condition, available for immediate shipment.

Alard item reference #:Y3053